On Tuesday, the New York Times reported that the Justice Department is investigating whether Gaetz had a sexual relationship with a 17-year-old and paid her to travel with him. Gaetz has called the report "totally false." Gaetz told Axios that his lawyers told him that he "was not a target but a subject of an investigation regarding sexual conduct with women."
The Florida Republican countered the report on Twitter and in statements to Axios and Fox News with a claim that his family is being extorted for $25 million and that the people pushing stories about an investigation into his relationships with women are the people extorting him and the subjects of an FBI extortion investigation over the last few weeks.
The documents in Gaetz's possession detail an alleged scheme that revolves around attempts by former Air Force intelligence officer Bob Kent and Beggs & Lane attorney David McGee, a former federal prosecutor, to free ex-FBI agent-turned-private investigator Robert Levinson from imprisonment in Iran.
Levinson went missing in Iran in March 2007. McGee is the attorney for the Levinson family. Kent in December 2018 had planned a secret mission to try to rescue Levinson, but he was reportedly thwarted by the federal government.
Screenshots provided to the Washington Examiner show a message that his father, Don Gaetz, a former Florida state Senate president, said he received from Kent on March 16. The message proposes "a plan that can make [Matt Gaetz's] future legal and political problems go away." Gaetz has denied any relationship with a minor.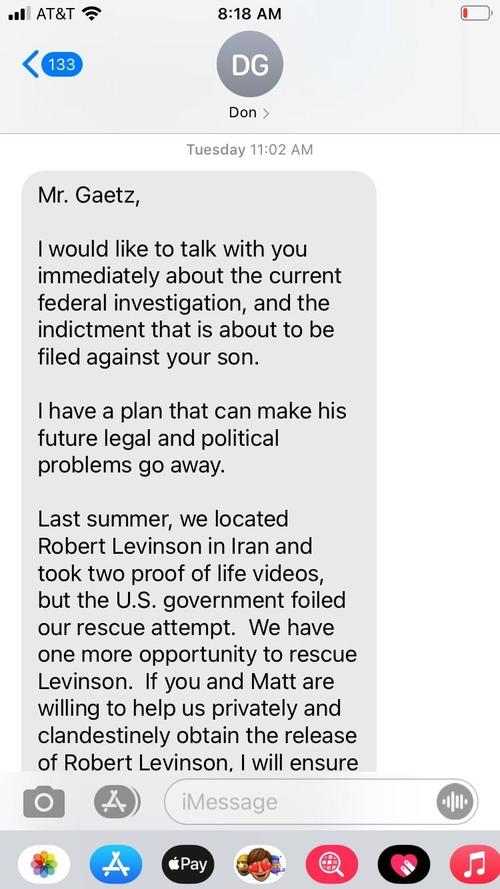 Despite the family members of Levinson saying in March 2020 that they presumed him to be dead based on information given by U.S. officials, the alleged message from Kent said he had located Levinson in Iran and has two "proof of life videos." Kent also requested the Gaetz family's help returning Levinson in exchange for giving Matt Gaetz credit for the operation and promising a presidential pardon for unnamed legal issues.
The next day, on March 17, Don Gaetz purportedly met with Kent, and Kent handed him a three-page document outlining "Project Homecoming." That document detailed a plan to save Levinson at the cost of a $25 million loan.
In 1983, Don Gaetz co-founded VITAS Healthcare, and in 2004, he and his co-founders reportedly sold their stock in the company for $406 million.
In the Project Homecoming document, Kent then asked that the loan should be deposited in the trust account of Beggs & Land, naming David L. McGee, and deposited no later than March 19.
The Project Homecoming document states that Gaetz is "under investigation by the FBI for various public corruption and public integrity issues" and alleges that the FBI is aware of photos depicting Gaetz in a "sexual orgy with underage prostitutes."
"In exchange for the funds being arranged, and upon the release of Mr. Levinson, the team that delivers Mr. Levinson to the President of The United States shall strongly advocate that President Biden issue a Presidential Pardon, or instruct the Department of Justice to terminate any and all investigations involving Congressman Gaetz," the document reads.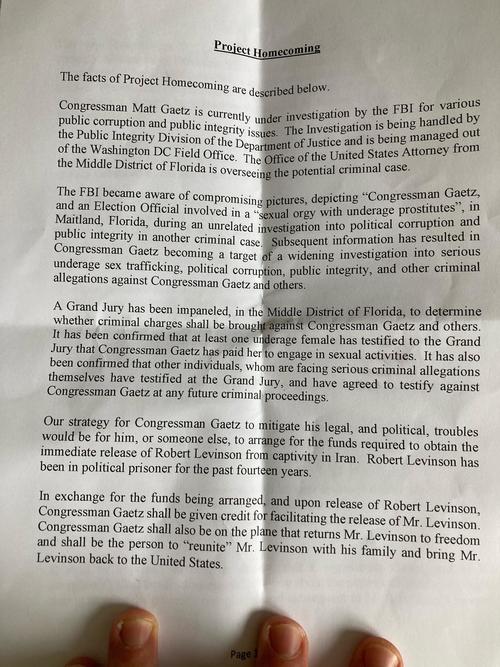 It also implied that the White House has some knowledge of the plan: "The team has been assured by the President that he will strongly consider such matters because he considers the release of Robert Levinson a matter of National Urgency." The White House did not immediately respond to a request for comment.
Stephen M. Alford, who has previously faced fraud and extortion charges, was also allegedly at the March 17 meeting and gave Don Gaetz his business card showing Captum Consultants. The April 2020 articles of incorporation for the company indicate they came from Beggs & Land, McGee's firm.
Kent, McGee, and Alford did not respond to requests for comment.
McGee told the Daily Beast on Tuesday night, following Gaetz naming him on national television, that any claims that he or his law firm were involved in extortion are "completely, totally false," adding, "This is a blatant attempt to distract from the fact that Matt Gaetz is apparently about to be indicted for sex trafficking underage girls."
Another email chain appears to confirm the existence of the FBI investigating extortion claims.
"My client, Don Gaetz, was approached by two individuals to make a sizable payment in what I would call a scheme to defraud," Jeffrey Neiman said in a March 25 email to the Department of Justice. "The FBI is not asking Don to voluntarily and proactively assist in their investigation, which Don is willing to do. Please confirm that your Office and the FBI would like Don's assistance in this matter and that he will be working at the Government's request."
Assistant U.S. Attorney David Goldberg responded: "I can confirm that your client is working with my office as well as the FBI at the government's request in order to determine if a federal crime has been committed. This has been discussed with, and approved by, the FBI as well as the leadership of my office and components of Main Justice."
The Department of Justice and the FBI declined to comment on the email or the existence of an extortion investigation. Neiman also declined to comment.
Provided to the Washington Examiner
Gaetz on Fox News Tuesday night said his father wore a wire in order to assist with the case, and he demanded that the "Department of Justice and the FBI release the audio recordings that were made under their supervision and at their direction, which will prove my innocence."
He suspects that a leak to the New York Times story about the investigation into whether he had a relationship with a 17-year-old was timed to thwart the FBI investigation into the extortion.
"This former Department of Justice official tomorrow was supposed to be contacted by my father so that specific instructions could be given regarding the wiring of $4.5 million as a down payment on this bribe," Gaetz said. "I don't think it's a coincidence that tonight, somehow, the New York Times is leaking this information, smearing me, and ruining the investigation that would likely result in one of the former colleagues of the current DOJ being brought to justice for trying to extort me and my family."
The 17-year-old in question "doesn't exist," Gaetz said, adding that he has "not had a relationship with a 17-year-old. That is totally false."